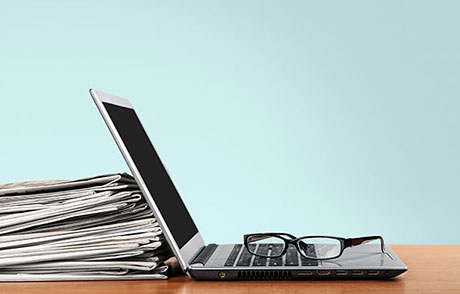 How to Pick Eyeglasses for Your Shape Face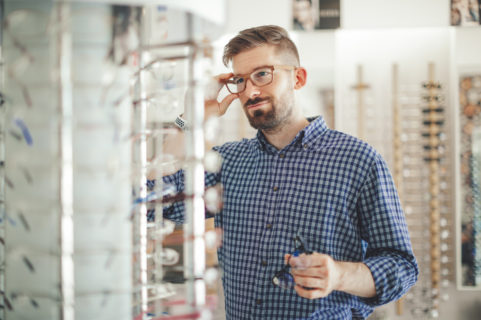 Whether you are choosing your very first pair of prescription eyeglasses or your most recent eye exam revealed new numbers for you, it's important to make sure your prescription eyeglasses fit the shape of your face. At Dr. Shottenstein's New York City office, he and his staff understand the importance of the perfect-fitting eyeglasses and are able to guide you through the surprisingly complex process of choosing the right glasses to best fit your face, your prescription, and your style.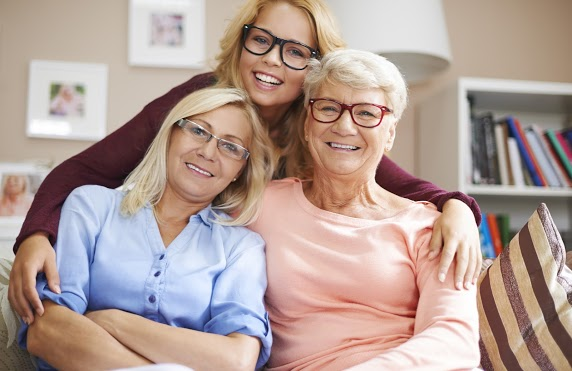 Fitting Glasses To Your Face
This seems like a simple question, but has less than simple answers. While it's easy to ask, "Is your face oval, round, square, or rectangular?" – the truth is that most of us have some combination of all those shapes. It's also important to remember that faces aren't just two-dimensional. Here is a quick run-down on all of the things we consider at our office when fitting your eyeglasses:
Sharp, angular features, or soft, rounded features?
We consider more than just one type of shape – it's about whether you have angular features or rounded features. Once decided, we'll then guide you to our frame collection that is just the opposite of the shape itself – curved frames for sharp, squared jaws, and angular frames for soft, rounded faces.
Wide at the top or at the bottom?
Contrast is key here as we will try to de-emphasize the widest part of your face by using the opposite width of glasses.
Matching face proportions
Getting a great fit for eyeglasses should always include making sure your glasses are not too big for your face, or vice versa. Choosing a taller frame height can help keep your glasses in proportion to the rest of your face.
Positioning eyes within the frame
When we fit your eyeglasses at Dr. Schottenstein's, we'll make sure that your eyes are positioned in the top third of the lens vertically and close to center horizontally. Not only does this give you optimum vision, it also keeps you from looking cross-eyed or bug-eyed due to bad-fitting glasses.
What's your face width?
For the best look and the most comfortable fit, you'll want your glasses to rest with equal weight on your ears and nose, gripping your temples lightly. You can see the correct fit visually when the width of the frame is equal to the width of your face from ear to ear, and there is no gap, or only a very slight gap, between the top of your nose and the bridge of the frame.
Consider Your Prescription When Selecting Eyeglass Frames
After your comprehensive eye exam with Dr. Schottenstein, you'll have a detailed prescription that will allow you to see sharp focus for all levels of distance. We'll use this prescription to prepare your lenses, but you'll also want to consider it when selecting your eyeglass frames. You may have single vision glasses, bifocals, or progressive lenses. With progressive lenses, we will make sure you select an eyeglass frame that has room for all three levels of distance. With stronger prescriptions, we'll make sure the thickness of your lens doesn't affect your fit. If you're a "plus" prescription, we'll advise you to pass on the larger lenses, which can cause your eyes to look distorted. For "minus" prescriptions, beware of the taller frames as they may not fit well on the outer side where the lens gets thicker.
What's Your Personal Style?
Eyeglasses today are an accessory that reflects your personality, so it's important to purchase new eyeglasses considering your own personal style. What look are you trying to create? Do you prefer the more understated, professional look, or are you wanting to break all the rules and go bold? At Dr. Schottenstein's office, you'll be able to experiment with eyeglass frames in every style to find the one that best suits you. And if you're looking for the trendiest styles for 2019, here are some of the most talked-about in New York City and the eyeglass world for both classic and new, bold looks:
Low-key, clear or transparent frames – one of the most popular trends, you can select clear transparent or bolder, colorful transparent versions.
Dusted pink glasses – following Pantone's color of the year pick of living coral, you'll see this fresh dusted pink reflected in glass frames.
Unique tortoiseshell glasses – horn-rimmed and with many color palettes, you're bound to find a design that fits your skin and hair tone.
Vibrant reds – glasses with a bold look in all shapes.
Retro-vintage oversized square glasses – throwbacks to the 70s and 80s, square lenses remain timeless with this year's oversized proportions and thick frames.
Lightweight, thin metal eyeglasses – for a more professional approach, you can go with metal round eyeglasses, though any shape in a lightweight metal option will be admired this year.
Eyeglasses are the most important statement item you can wear. We'll make sure you'll love wearing the ones you choose at Dr. Schottenstein's office.
Does Your Eyeglass Frame Choice FIT?
Okay, you've found the perfect shape, size, proportion, and style you love, but there's one final, very important step: Do they actually fit your face properly? Eyeglass frames are mass-produced all over the world, so making sure that your glasses fit comfortably is as important to Dr. Schottenstein as it is to you. Here are a few things we look at to help you test final fit:
Nose fit – Most people consider this the one most important factors of getting new eyeglasses. Having glasses the same width as your face with just the right amount of space between your nose and the frame will avoid glasses sliding down your nose, red marks and indentations, and eyelashes fluttering against your lenses.
The shake-off – When you tilt your head down and shake it, do your glasses fall off? If they do, chances are those frames will keep sliding down your nose every day!
Under pressure – Focus on the amount of pressure your frames are putting on your temples above and behind your ears. If it feels uncomfortable at all, your frames may be too tight.
Cheek space – You may not notice this at first, but if your frames are touching your cheeks at all, you will eventually find the eyeglasses annoying throughout the day.
See Dr. Schottenstein For Perfect-Fitting Eyeglasses Every Time
If you want to choose the perfect eyeglasses for your face shape, the perfect style that fits your personality, AND an expert prescription executed from your eye exam, you can count on Dr. Schottenstein's office. We offer eye care for all ages including eye exams and prescription eyeglasses. Every pair of eyeglasses you want will be custom-fit by our professional staff. You'll walk out of our office with high-quality eyeglasses that frame your face perfectly, reflect your style, and are as comfortable as air. Now is the time to move to the perfect statement accessory that will give you perfect vision. Request an appointment online or call Dr. Schottenstein's New York City office today at 212.874.2300 and let's get started!
---
---